Search Engine Optimization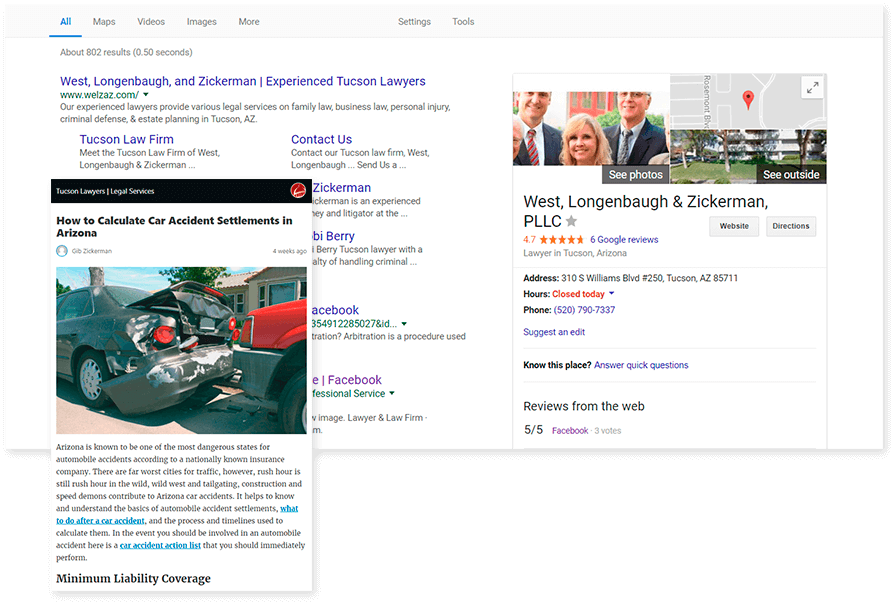 Professional SEO Services
Over 89% of consumers perform research by typing in specific keywords in search engines to locate services or products and help them in that decision process. Typically, the top placements in Google are paid ads (see PPC) however 70-80% of users are ignoring these top paid ads and scrolling down to the map and organic listings, which are influenced by proper white-hat SEO techniques. At Sting, we have a team of experienced SEO experts that can help businesses to gain more exposure on search engines like Google and generate more high-quality traffic.

Thanks to Google's mission to provide better search engine results for its users, long gone are the days when you could stuff keywords or city names in your HTML code, create a few sentences of content, purchase some backlinks and call it good. SEO success today demands a much more strategic and evolutionary approach, across multiple disciplines.
There is not a "one-size-fits-all" approach to good SEO. Your business is different than others, with unique history, customers and business challenges. Our team of search engine experts approach your business with a blank slate, building a custom tailored, fully integrated inbound marketing strategy that provides both a short and long-term return on your marketing investment.
We start with the customer research - who they are, what channels are they searching online, what keywords are they using, how are they currently interacting with your website, and what content will provide value. This research and analysis on the audience, provides us with the insights that form the foundation of everything we do.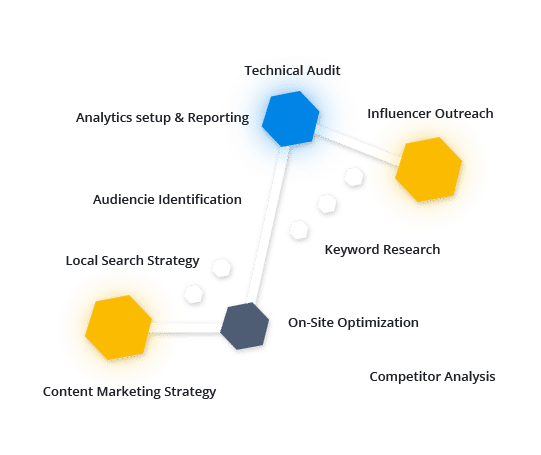 Our process revolves around gathering data and continual analysis through the technical audit of your website, keyword and competitor research, content mapping, link audits and negative SEO attacks that may have taken place. Through computational analysis and review, we are able to design and deliver on your custom SEO plan.
SEO Strategies & Capabilities

Unlike most generic SEO audits performed by machines, ours are aggregated and analyzed by hand. Only a human eye can identify these weaknesses. This analysis allows us to prepare step-by-step recommendations for improving your organic search engine rankings. Sometimes it is the small details that we can catch with an audit, that determines the difference between a 1st and 2nd place keyword ranking.

Quality links from other topically relevant and authoritative sites, help Google determine the authority of your content and site. We compile and audit link audits from your website, competitors and industry sites. We then combine that with our proprietary white hat link building and link building outreach processes to land our clients links on high authority website sources. Additionally, our SEO team would also collaborate with social media team to utilize social media platforms for SEO as social signal is a vital ranking factor as well.

ANALYTICS SETUP & REPORTING
Search engine optimization is a continual process and to monitor our plan, we need to establish proper metrics and analytical tools. Every month we aggregate data and prepare a detailed report about your SEO campaign. From this, we provide detailed education on what the data means and how these factors are contributing to your leads and influence our plan of attack.

Many times, we find that once your competitors see you succeeding with SEO, they try to employ negative SEO tactics in an attempt to decrease your rankings. In some cases, this is done by SEO companies our clients had previously hired, using old school tactics or less than legitimate black hat SEO that Google can easily identify. We can find these attempts for our clients and work to resolve them.

It is proven that map listings drive conversions. To get your local business on the map, we build out and standardize the local citations, directory listings, and reviews to position your business at the top of the local map results for keywords that convert. This is done through manual submissions, audits and promotional techniques that identify your keyword, website and local location as authoritative.

Properly researched and written content is prepared by our categorical expert writers and editors. However, our process even starts before creating content. We employ in-depth keyword research on the search queries being searched and topics that resonate with your audience. All of this is useless without the proper promotion and placement through quality distribution channels, as no one will ever see it.

Not all keywords are created equal. Some can generate more web traffic, others less traffic but more conversions. Some are very competitive and require more time and energy while others less. We do not solely focus on getting more people to your site, but research keywords to understand how your customer searches online so we are getting the right people to your site.

REVIEW & REPUTATION BUILDING
Research that helps guide your potential clients to you is done by analyzing websites that are out of your direct control. Reputation management plays a critical role in the bottom of the conversion funnel for both large companies and small businesses. Review sites like Yelp, Google and Facebook can accept good and bad reviews about your company which can dramatically influence others in their decision-making process. Our team helps build up your reputation and positive reviews with our proprietary processes.
Welzaz

Doubles Traffic


in 6 Months
Our client, Welzaz, is a law firm based in Tucson, Arizona. The firm offers a variety of legal services, such as family law, estate planning, business law, criminal defense, and etc